Rhinoplasty : Nose plastic surgery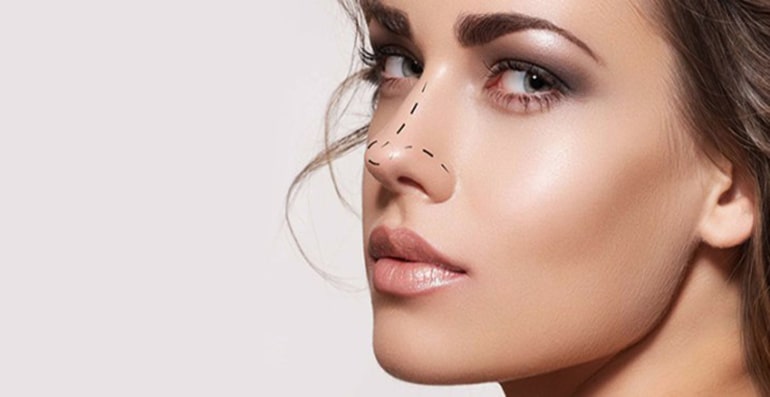 Rhinoplasty called also Nose job is a surgical procedure which is done to alter the figure of the nose. Rhinoplasty may be implemented objectively to either modify the appearance of the nose or for easier inhalation. The higher section of the nose structure is bone, and the lower section is cartilage. Rhinoplasty can be implemented to adjust the bone, cartilage, skin or all three together.
Reasons for rhinoplasty surgical procedure
Nose job is a regular plastic surgical procedure. It can be performed to:
Minimize or maximize the nose size
Modify the outline of the tip or the nasal bridge
Reduce the openings of the nostril
Adjust the position concerning the nose and the upper lip
Fix an injury or birth defect
Support and ease some breathing complications
If you wish to get your nose done, you should consult a surgical doctor to deliberate and get information about the appropriate procedure. We can help you do so, you simply have to fill our free quote form and send us pictures of your nose. In the course of the online consultation with our facial plastic surgeon, objectives, complications, and reasons for opting for this procedure will be discussed.
Rhinoplasty can be of two types which are:
1. Full Rhinoplasty
An individual can opt for a full rhinoplasty. The procedure is equally cosmetic and functional; it offers a change, more confidence, and a better self-esteem for both men and women who crave for better facial features. This procedure entails the entire nose rather than the tip alone.
2. Ethnic Rhinoplasty
This is a cosmetic procedure that is implemented to modify an individual nose appearance in line with a particular ethnic background, like an Asian or African American rhinoplasty (African American nose job). This sort of nasal surgical procedure is considerably dissimilar to the commonly acknowledged traditional rhinoplasty that comprises nose reduction (removing bone and cartilage), usually amongst Caucasian people. Ethnic rhinoplasty has to do with the augmentation of the nose (inserting cartilage and structure) for people who desire to modify a flattened nose, widen nostrils, or other ethnic features.
What can I expect from Nose plastic surgery?
Rhinoplasty is a procedure that involves many steps. Each surgery done unique and they are made for the specific anatomy and towards the wants of the individual carrying out the procedure.
Rhinoplasty may be performed in the inner part of the nose or via a minor external incision at the base of the nose, between nostrils. Your surgeon will perform some readjustment on the bone and cartilage beneath the skin.
Discover our facial plastic surgery:
---
---
Rhinoplasty cost in tunisia
The cost of a nose surgery in Tunisia is very economical and you can save up to 65% of the cost comparing to the UK prices. In the event that you are a suitable candidate for this surgery, always remember that the average cost of rhinoplasty in London may be around £ 5857.
Lower cost of rhinoplasty in Tunisia is due to reasons such as the cost of living in Tunisia which is affordable, the currency exchange rate is extremely advantageous as the Sterling Pound is worth 3,8 the Tunisian dinar, the tax laws drug support for Health Care and encourage investments in constructing clinics, in training and medical equipment. Other factors are a lower cost of insurance paid by doctors among other things.
Learn more about all cosmetic surgery prices in Tunisia.
Rhinoplasty price in Tunisia mentioned above includes hospital cost, surgeon's and anaesthetist's fees, all ground transfers (airport, hotel, clinic...) and your stay at a 5* hotel on full board basis.
---
Rhinoplasty in tunisia in bref
---
How is rhinoplasty performed?
For nose job the doctor will use general anesthesia. By means of general anesthesia, the patient will breathe in a drug or receive one via an IV line to enable the patient to become unconscious.
As soon as the patient is anesthetized, the surgical doctor will make incisions between or inside the nostrils. Separating the skin from cartilage or bone and commence restructuring of the nose.
There is two major techniques of nose job surgery:
Open rhinoplasty: the plastic doctor makes small and irregular incision to the columella. This is the fleshy end of the nasal septum
Closed rhinoplasty: the surgeon performs each incision within the nose, where no cut is made;
Sometimes, certain bones may need to be altered in order to make your nose look narrower and straighter.
If your nose needs to be augmented, there are many ways by which your surgeon can augment your nasal bone or cartilage; this depends on the amount that needs to be added, the nose configuration, and materials present. For minor modifications, the surgical doctor possibly will use cartilage collected from deep section inside the nose or ear. For biger supplies, the doctor may collect cartilage from rib, implants or bone from other body parts.
If a patient requires a minor quantity of extra cartilage, the surgeon may take out some from the ear or deep inside the nose. If it requires additional cartilage, an implant or a bone graft will be implemented. Extra bone added to the nose bone may be collected from rib, implants or bone from other body parts.
The procedure generally lasts one to two hours and may take longer for complex cases.
---
Scars related to rhinoplasty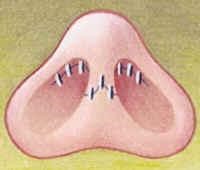 Scarring is a regular course in which the body rebuilds the skin or tissue disjointedness. Although it can be worrisome, it is not a complicated case. As rhinoplasty is an invasive procedure, it will possibly result in few post-surgical scar tissues. Though, as the incision is usually minor, the scarring is typically very minimal and exists in discrete regions. Since the incision in open rhinoplasty is done on the outer surface, the scar should be noticeable to someone on close by check for several months after the surgery, but, it is barely visible one-year after the surgery. The closed rhinoplasty incision is generally more desired since the opening is done inside so the scar is not easily noticeable. The mucous membranes situated inside the nose will likely recover very well not showing outstretched or shadowy scarring.
---
Postoperative effects and recovery after cosmetic surgery of the nose
One week after the surgery, the splint and bandaging around your nose will be removed.
Your face will seem bulbous and the region around your eyes and nose will be bruised and swollen for some days. Cold compresses can aid reduce the swelling and alleviate pain. Medications for pain may be recommended by your doctor. In approximately 10 to 14 days most of the swelling and bruising improves.
There may be a need for you to keep your head up and relatively still for the first few days after surgery. It may take some weeks before you can resume regular physical activities.
After the surgery, you will be monitored in a recovery room for at least a few hours. Immediately, after the nose surgery and because of the anesthesia, the patient will need help and support. Our assistance team will be there to assist you in order to arrange your check-out from the hospital and drive you to your hotel.
---
Rhinoplasty result and outcomes
Very minor modifications to the nose configuration are often measured in millimeters and can result in a big difference in the appearance of the nose. A well-shaped nose in harmony with the other face proportions is one of the most important feature for a beautiful looking face. The patient has to hold for least 12 months for the final result.
After nose job it is usual for the nose to heal by scar formation under the skin. The surgeon has little to no control over this natural healing. A Rhinoplasty aim for improvement rather than perfection. No platic doctor can guarantee results because rhinoplasty result does not only depend on the skill and experience of the surgeon, but also on the skin type, facial anatomy, and healing process.
---
Before after photos of nose job
Before after photos of nose job 1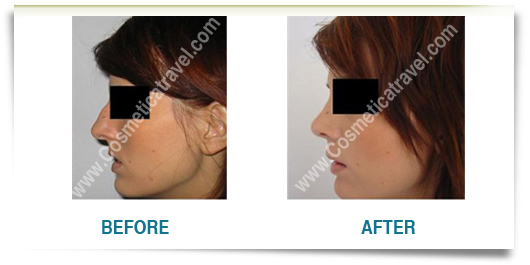 Before after photos of nose job 2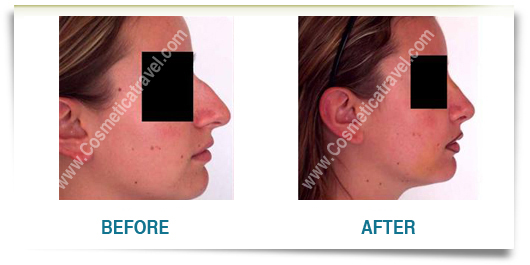 Before after photos of nose job 3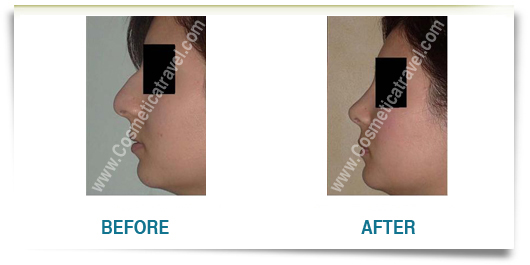 Before after photos of nose job 4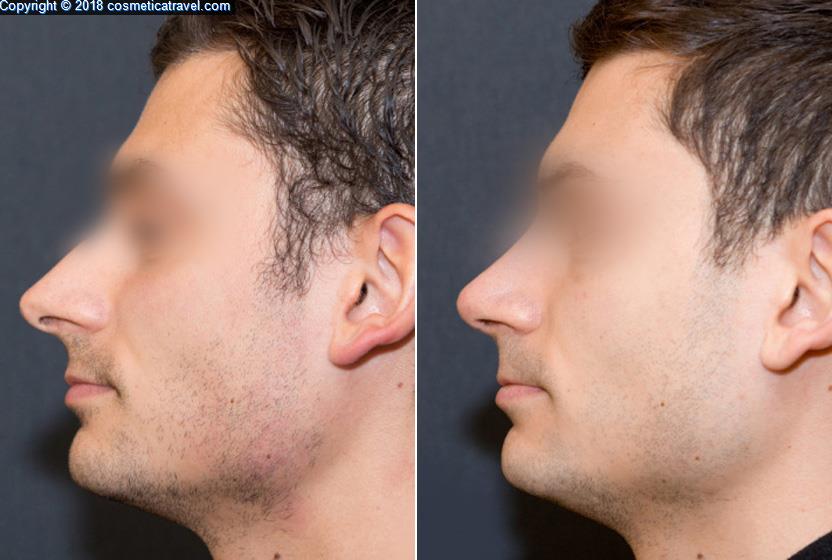 ---
Advice before and after rhinoplasty
Before rhinoplasty surgery:
It is important that you stay away from smoke and also the use of other related products such as tobacco or nicotine for two weeks before and two weeks after surgery.
Avoid taking drugs such as aspirin, ibuprofen or anti-inflammatory or anticoagulant, as well as any illicit or illegal drugs cocaine, crack, THC, marijuana for two weeks before surgery. Such drugs would lead to problems with anesthesia and surgery.
Lastly, you should also distant yourself from the consumption alcoholic drinks including beer and wine for one week before surgery and one week after your surgery.
Other things which you should avoid will be revealed to you by your doctor.
After cosmetic nose surgery:
Ensure that needed instructions are given to you by your surgeon some of which are listed below:
The way you take care of the site of surgery
The drugs that will be used to hasten healing and reduce the risk of infection
Reactions that demand attention at the surgical site
At the moment when you come back for follow-up care amid your stay in Tunisia and in case, there is any need for follow-up care after going back to your country.
When there is a need to remove any bandages or plaster after surgery
How the stitches will be removed
When you can resume normal activity and exercise
Read more about plastic surgery before and after
Depending on the period, procedure and other criteria