Blepharoplasty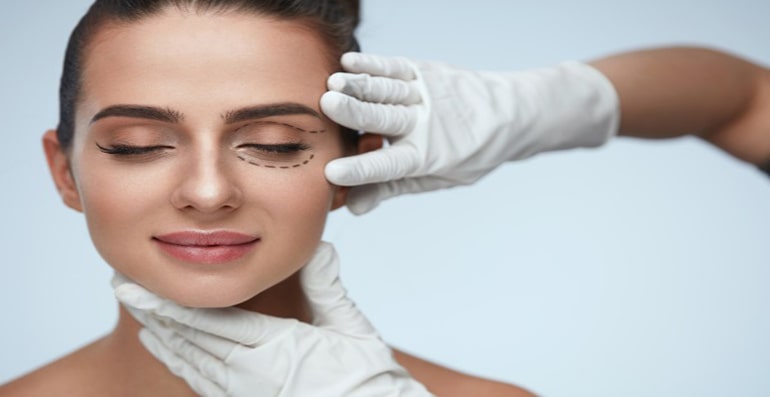 The skin and the muscle around the eyelids are quite delicate and tend to lose elasticity with time. This, in turn, leads to loose, dark and droopy eyelids. In order to correct this, a blepharoplasty should be done.
So what is a blepharoplasty?
A blepharoplasty, also known as an eyelid surgery is aimed at adjusting droopy eyelids through the removal of excess skin and fat thereby making the eyelids firmer and younger looking.  It can be performed on either one or both of the eyelids for cosmetic or functional purpose.
Also, this cosmetic surgery helps improve the vision as excessive skin accumulated at the upper eyelids can hinder a clear sight (peripheral vision).
Simply put, an eyelid surgery will give you a better, younger and smoother look.
Our facial cosmetic surgeries include:
---

---

Cost of a blepharoplasty in tunisia

The price of a blepharoplasty in Tunisia coupled with a week of recovery or vacation in a 5 stars hotel is at least 67% cheaper than the sole procedure in Europe and for the same medical quality.

The cost of a blepharoplasty in the UK is around £ 4909. while our price for this procedure is of £ 1620., therefore enabling you to save up to 67%.

It is important to note that the cost of a blepharoplasty in Tunisia with a stay in a 5star hotel is cheaper by 40% to 60% than the cost of only surgery in the UK. The wide disparity in the cost of the surgery is because Tunisia has health care laws that are favorable. These laws encourage heavy investments in clinics and medical equipment. Also, doctors in Tunisia are not required to pay high insurance costs like the ones in the UK.

Lean more about our Cosmetic surgery abroad

Our prices include :

Medical services:

The surgery
The anaesthetics
All operating theatre charges
1 to 2 nights at the clinic
The surgeon's and the anaesthetist's fees
Pre and post operative consultations
Post operation care carried out by a trained nurse at your hotel (if necessary)
Medication needed during your stay in Tunisia

Agency services:

All transfers (airport, hotel, clinic, ...)
5 to 7 nights at a 5* hotel on a half board basis
Wellcome, assistance and organization of your stay
Arrangement of all your appointments
Reservation of any extra services

Discover our best cosmetic surgery clinincs in Tunisia

---

How blepharoplasty is performed

Before the surgery begins, the patient will undergo a physical and sight examination. This entails examining the part of the patient's eyelids skin that is considered excess and the part of the patient's vision that the droopy skin has affected.

After this, general anesthesia will be given to the patient.

The surgeon will carefully mark lines along the natural folds of the eyes in order to reduce the residual scars to the barest minimum. After a the incisions have been made, the surgeon will extract excess fat or skin from the tissues in the eyelid(s). The cut is then stitched up in a very small portion in order to make stitches less visible.

There are various techniques of blepharoplasty, one of them is a technique which involves cutting through the skin right below the eyelashes. After the incision has been made, the surgeon raises the skin around the eyelashes up in order to expose the membrane and remove the right proportion of fat and skin that is not needed. Another technique is the "Canthopexy". This technique tightens the lower lid and places it in a higher position.

| Operations | Anaesthetic | Procedure Time | Hospital Stay | Stay In Tunisia | Back To Work | All Inclusive Price |
| --- | --- | --- | --- | --- | --- | --- |
| 4 eyelids surgery | General | 1-2 hour(s) | 1 night(s) | 4 night(s) | 7-10 day(s) | £ 1620 |
| 2 eyelids surgery | General | 1 hour(s) | 1 night(s) | 3 night(s) | 7-10 day(s) | £ 1450 |

---

Scars related to blepharoplasty

There are minor scars that the patients will see on their eyelids as a result of the incision after a blepharoplasty. These scars will not be strongly noticeable and will gradually fade months after the surgery.

The degree of scarring on the eyelids depends on the technique employed by the surgeon.

---

Post-operative effects and recovery

After the patient has undergone a blepharoplasty, there are certain requirements that a patient must be prepared for.

First, patients should take proper care of the incision marks on their eyelid(s). These incision marks may take a week or two weeks to heal after which there will notice the scars. Patients can apply ointments approved by the surgeon on the scar to make it heal faster.

After a blepharoplasty, the eyelids are bruised for 1 to 2 weeks. So you may need to wear dark glasses in the meantime. The stitches are removed on the fourth to the sixth day.


Patients when outdoors should always wear glasses in order to protect their eyes and eyelids from any harsh element (sun, wind, dust...).

---

Results and outcome of a blepharoplasty surgery

After a blepaharoplasty the usual puffiness and darkness under the eyes will disappear.

A blepharoplasty enables the:

Removal of the bagginess under the eyelids
Removal of dark circles present under the eyes
Enhancement of the peripheral sight
Firm and well-shaped eyelids

---

Before and after blepharoplasty photos

Before and after blepharoplasty photos 1

Before and after blepharoplasty photos 2

Before and after blepharoplasty photos 3

Before and after blepharoplasty photos 4

Learn more about cosmetic surgery before and after and plastic surgery costs in Tunisia.

---

Advice before blepharoplasty

Before you undergo an eyelids surgery, you will have a consultation session with your surgeon. Your surgeon will advise you on what you should and should not do before surgery.

Some of the major advices before blepharoplasty are:

Avoid taking medications like ibuprofen, aspirin and naproxen at least 15 days before your surgery
Quit smoking at least 4 weeks before the surgery
Undergo a comprehensive eye examination
Abstain from alcoholic beverages
Abstain for illegal substances and drugs

---

Advice after blepharoplasty

After your surgery, you should adhere to the following:

Make use of prescribed ointments and eye drops.
Wear glasses instead of contact lenses.
Do not rub your eyes.
Avoid straining your eyes for too long
Take a lot of rest
Depending on the period, procedure and other criteria