Bum lift surgery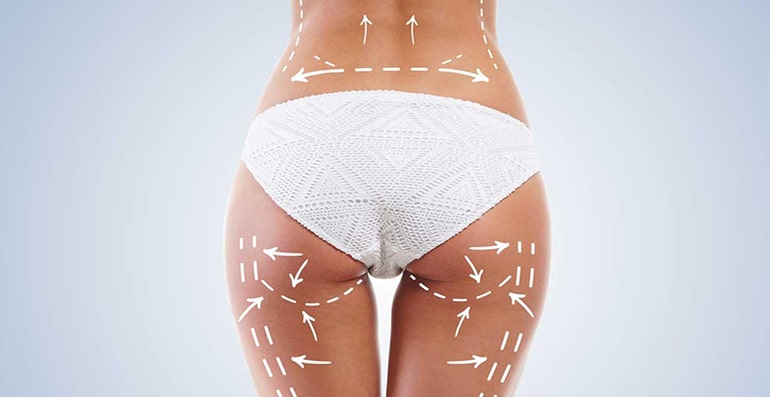 A buttocks lift is a cosmetic surgical procedure designed to improve the appearance of the buttocks. It is a cosmetic surgery adapted to people who have drooping buttocks or a developed volume with an excess of skin. This is quite common among people who are older than 50, but the problem may also be for younger people. The problem is rather cutaneous than fat volume.
The buttocks lift is a surgical procedure that corrects sagging buttocks or deformed buttocks.
The procedure involves removing excess skin and fat to improve the shape of the waist, hips and buttocks. The surgeon usually makes an elliptical incision at the level of the lower back that can go from one hip to the other. The surgeon can adapt the technique according to indication or case.
A buttocks lift can be performed in addition to a tummy tuck (belt lipectomy) or lower body lift so as to contour the buttocks, groin, thighs, and abdomen in order to obtain a hourglass silhouette.
Performing only buttocks lift will not add extra volume to the buttocks. But sometimes, a buttocks lift can be done in combination with an augmentation procedure so as to change the shape or size of the buttocks with implants or fat grafts.
A buttocks lift involves the removal of excess skin and fat from the buttocks. The remaining skin will then be repositioned in order to create a more toned appearance.
There are some factors such as aging, sun damage, pregnancy, significant weight fluctuations and genetic factors which can contribute to poor tissue elasticity, which can lead to saggy buttocks.
Before a smoother and more satisfied contour can be achieved, additional saggy skin and fat must be removed. It should be noted that a traditional buttocks lift will not create a bigger but, but it can enhance a dimpled, irregular skin surface.
Who is an ideal candidate for buttocks lift surgery?
If your efforts via exercise and weight loss have not helped you to achieve your goal and/or if you simply want to get your dream body rapidly then a buttocks lift surgery will be of great use.  Below are some features of an ideal candidate for buttocks lift surgery:
People with loss of skin elasticity in the buttocks area as a result of extreme weight loss or aging
People with wrinkled, padded or weak thighs because of lack of exercise or cellulite
Non-smokers
People with a positive outlook and realistic goals for what buttock lift surgery can achieve
People who keep a healthy lifestyle, including proper nutrition and fitness.
Discover our Buttocks surgery such as the Buttocks augmentation procedure and the Brazilian bum lift.
---
---
Buttocks lift cost
The cost of buttocks lift surgery in Tunisia is relatively inexpensive and if you take advantage of our price, you can save up to 65% of the cost compared to the UK prices. Indeed, the average cost in London for a buttocks lift is usually around £ 4114.
Learn more about plastic surgery costs in Tunisia
A buttocks lift including a recovery stay at a 5* hotel is 40% to 60% cheaper than the sole operation in the United Kingdom.
Many factors contribute to the high cost of buttocks lift surgery in the UK compared to the prices in Tunisia. Some of which are: the high surgeon fees, the types and the cost of material used, the cost of the facilities, the higher purchase power in the UK, the currency rate which is highly advantageous for UK citizens and many more factors…
---
Buttocks lift in tunisia in short
---
How buttocks lift is performed?
Buttocks lift procedures
As stated above, a buttocks lift is a cosmetic surgical procedure and may require many incisions. The length and pattern of the incision vary as it depends on the amount and the position of the excess skin to be removed, and also the surgical judgment. With the use of advanced techniques, this allows strategic positioning of the incision to places where they will be hidden by most types of clothing and swimsuits.  
The whole procedure lasts between 1 and 2 hours, this relies greatly on the nature of the procedure. Before the surgeon starts the buttocks lift procedure, he will carefully mark the skin that needs to be excised.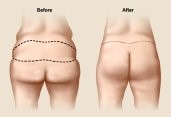 The steps involved in buttocks lift surgical procedure are:
Step 1 - Anesthesia
During anesthesia, drugs are administered so that the patient can be comfortable amid the surgical procedure. A general anesthesia will be administered to make the procedure as comfortable as possible.
Step 2 - The incision
An incision is made below the waistline and it is usually done in combination with an abdominoplasty incision in a body contouring procedure. In order to improve the contour, liposuction can be introduced as well. In the event that your surgeon finds that you are a good candidate for an auto-augmentation, some of the tissue that is normally removed is strategically kept in a hidden place below the rest of the skin.
If only a buttocks lift is to be done then an incision underneath the buttocks is done and is positioned in the crease between the buttocks and the upper thigh. Excess skin and tissue are removed which leads to a more defined crease and in some cases, it smoothens the skin of the back of the upper leg.
Step 3 - Closing the incisions
Deep sutures which are done within underlying tissues assist in forming and supporting the newly shaped contours. The incisions can then be closed by making use of sutures, skin adhesives, tapes or clips.
---
Scars related to buttock lift
Incisions are made during buttocks lift surgical procedures which appear at the top of the buttocks in the back or hidden below the buttock by the crease. There will be an appearance of minor scars if liposuction is involved. The scars will disappear over time and mostly become unnoticeable.
---
Postoperative effects and recovery after a buttocks lift
Following the procedure, special instructions will be given. Our chauffeur will be available to drive you back to the hotel and an assistant will be there to help you be as comfortable and rested as you could be.
According to the doctor's advice, you will be required to put on an elastic bandage for 3 to 6 weeks, day and night. The elastic pressure bandages support help to prevent swelling, accelerates the healing process of the skin and scars.
Also note that:
The scar should remain dry until the stitches are removed.
The external stitches will be removed 1 to 3 weeks following the procedure.
Then you can shower with warm water, but not yet a bath.
Over time the subcutaneous stitches will dissolve by themselves
Be sure to rest for at least two weeks after surgery.
After 1 week you can continue with light activities.
After 6 weeks, you can continue sporting activities and lifting.
---
Result and outcome of buttock lift surgery
It is important to note that after a buttocks lift surgery, there will be a visible scar. The scar does not fade off immediately however it will fade little by little and become barely unnoticeable.
The scar will be red and lumpy for the first three months following the procedure. It then fades off over time. After 12 to 18 months, the scar is completely mature. Until then it is important to cover the scar to avoid being exposed to the sun.
The results of buttock lift surgery will be visible immediately after the procedure. You will not be able to correctly evaluate the results until the swelling is almost gone. It takes between 6 and 12 weeks. The final result is visible only when the wound, subcutaneous tissue, and scar are completely cured. This lasts for about a year.
---
Before & after photos of buttocks lift
---
Advice before and after buttocks lift surgery
Prior to buttocks lift surgery, it is important to take note of the following advice so guarantee a successful outcome of the procedure
Two weeks prior to buttocks lift surgery and two weeks after surgery, put an end to smoking and avoid the use of tobacco and other related products such as nicotine products.
It is also advisable to quit the use of products that contains aspirin, ibuprofen or anti-inflammatory or anticoagulant, as well as any illegal drugs such as cocaine, crack, THC, marijuana, for two weeks before surgery. This is because this type of drugs can result in problems with anesthesia and surgery.
Do not take any alcoholic drinks (including beer and wine) for one week before surgery and one week after your surgery.
Women should not take contraception pills during one month before surgery; this is done so as to reduce the risk factors for venous thromboembolism.
Other important things that you need to take note will be discussed with you during the consultation. 
After buttock lift surgery:
Below are some of the specific instructions on post-operative care that you need to ask your surgeon:
Instructions will be given on how you take care for your surgical site(s) after surgery
Drugs which you will apply or take orally to aid healing and reduce the risk of infection will be prescribed
You will be informed regarding time to remove special dressings or bandages or plaster if any
How the stitches will be removed
An appropriate time to start training and any kind of physical activity
Learn more about plastic surgery before and after.