Buttock augmentation with fat grafting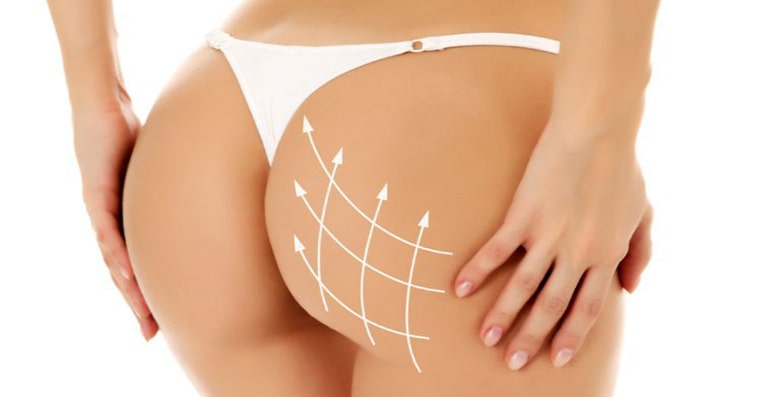 A Brazilian bum lift, also known as a "BBL surgery" or just "bum injections", is a plastic surgery that is performed to increase the volume of the buttocks by the injection of your own refined fat. This displays numerous benefits, the first being the extraction of fat at a particular site, and its transfer to another place where you would like a volume increase. In addition to this, the technique also allows the improvement of the contours of the buttocks by "sculpting" it so as to enhance its appearance.
The aim and objective of carrying out a Brazilian bum lift is to: increase the volume of the buttocks, improve of the shape of the buttocks and diminish the amount of fat of certain zone in your body.
Buttocks augmentation by fat injection must be associated with a liposuction of a minimum of 2 or 3 zones.
Here are some benefits of the Brazilian bum lift compared to the buttocks implants:
This technique is easier and less invasive (absence of foreign body).
This technique offers a more natural result compared to buttocks implants.
The scars produced are nearly invisible in comparison.
This technique can be done complementarily to buttocks implants in order to obtain a better sculpted and more natural looking result.
Who is a suitable candidate for a Brazilian bum lift?
Individuals who are in good health and have realistic expectations about the results of their surgery. A minimum amount of body fat is required in order to be transferred to the buttocks. If the patient doesn't have enough fat then buttocks implants would be a better solution.
The lipofilling technique is suitable for people who do not want to use prostheses, implants and other injectables.
---
---
Brazilian bum lift cost in tunisia
The cost of a Brazilian bum lift is affordable in Tunisia compared to other places such as in the UK. If you take advantage of our more affordable prices, you can save up to 65% of the cost compared to the cost in the United Kingdom.
Learn more about cosmetic surgery costs.
---
Brazilian bum lift in tunisia in short
---
How is a brazilian bum lift performed?
During this procedure the plastic surgeon uses a cannula that is connected with a surgical vacuum, which is used to extract the fat tissue from the donor site: donor sites can be abdomen, hips or thighs. Immediately after being collected the fat is then subjected to a purification and a concentration process. Once this process complete, the refined fat is re-injected to the buttocks by making use of cannulas.
This procedure can be done as many times as needed until the desired volume is obtained.
On average, 200 to 500 cc of adipose tissue are required for each side of the buttocks. The surgeons always inject fat in excess. Indeed, 60% of the fat injected will be metabolized and thus disappear. So the surgeons anticipate this natural process and inject in excess.
This procedure is very safe because as it is minimally invasive.
---
Scars related to a bbl surgery
The scars that arise from a Brazilian bum lift are inconspicuous this is because the cannulas which are used leave nearly no marks. The only place where the scars are palpable are the donor sites where the scars are small of about 3 mm, similar to the diameter of the cannula.
---
Postoperative effects and recovery after a bbl surgery
Hematomas and edema where the fat was injected are normal and will subside after a few weeks or less. It can take between two to three weeks before pain and discomfort subside totally (pain killers can be utilized to reduce this).
It is required of you to stay away from social activities mostly those that involve some parts of the body such as thighs, knees, hips, tummy, and buttocks.
---
Result and outcome of a bbl surgery
The volume of the buttocks will already be significantly bigger just after the procedure but you will have a better idea of the final result 3 to 4 months after the procedure when post-operative swelling has disappeared and poorly vascularized adipocytes have been eliminated. On average, 60% of the injected fat remains after the procedure. In favorable cases, 80% of the injected fat is retained. The more stable your bodyweight will be the more stable your result will be.
---
Advices before and after a brazilian bum lift
Before bum injections we recommend to:
Avoid smoking and stay away from the use of tobacco and products that contains nicotine as they can negatively impact the healing and scarring processes.
For two weeks prior to your surgery, stop using all products containing aspirin, ibuprofen or anti-inflammatory or anticoagulant, as well as any illicit or illegal drugs. Make sure that your surgeon knows everything about the medications you are using.
Stay away from drinks that contain alcohol.
The use of contraception pills is generally not recommended prior to your procedure.
After bum injections we recommend you to talk with your surgeon about:
How to take care of the sites where the fat was extracted and where the fat was then injected.
The drugs which you will apply or take orally to fasten healing and also decrease the chance of infections.
The follow-up care once you will be back home
The appropriate time to replace special dressings or bandages
How the stitches will evolve
When you'll be able to resume your normal activities and physical exercises
Read also about plastic surgery before and after