Breast Reduction
Breast Reduction surgery is recommended to women who suffer from large or pendulous breasts.
Oversized breasts do not only harm corporal self-esteem, but can also lead to painful chronic deformities, mainly of the neck, breast and back.
Breast reduction is a surgical procedure which is performed for the removal of excess fat, tissue, and skin from the breasts. It can also be referred to as mammoplasty. In the event that your breast is large, breast reduction can be done in order to alleviate discomfort or to get breast size which is proportional to your body.
If you are putting breast reduction into consideration, make sure you get in touch with a board-certified plastic surgeon. It is also good to have a better understanding of what breast reduction is all about, such as possible risks and complications, and your realistic expectations at the end of the procedure. Breast reduction surgery is usually carried out under general anesthesia which can be carried out either in a hospital or outpatient surgical facility.
Who is a good candidate for breast reduction?
You can be a good candidate for breast reduction if you fall in any of the following categories.
If you have dangling breasts
If you are worried about the size of your breast especially when it is too large
If your breasts affect the rate at which you perform physical activity
If the heavy weight of your breast causes back, neck and shoulder pain
If you experience irritation of the skin beneath your chest
If you have saggy breasts and have stretched skin
There are lots of benefits of breast reduction surgery. A reduction in the size of your breast can relieve tension and eliminate pains which can occur due to oversized breast. Breast reduction also reduces the size of heavier breasts thereby making it proportionate to your body. A reduction in the size of breast leads to the formation of a well-balanced body that is more shapely and perkier.
---
---
Breast reduction cost in tunisia
The cost of breast reduction surgery in Tunisia is inexpensive which you need to utilize the advantage and end up saving up to 62% of the cost compared to different places in the United Kingdom.
There are some factors which contribute to the diversities in the cost of breast reduction surgery in the UK, such as the experience of the surgeon, and the geographical location of the hospital. It is always important to remember that for an ideal candidate for breast reduction surgery, the average cost in London may be around £ 5370.
The above average price includes only anesthesia, operating room facilities and surgeon's fees.
However, the cost of breast reduction in Tunisia includes a recovery stay at the 5-star hotel, which is 40% to 60% cheaper when compared to only surgery in the UK. Below are some of the reasons behind the affordable cost of breast reduction surgery in Tunisia:
When you compare the cost of living in Tunisia to that of UK, you will see that that of Tunisia is significantly cheap and affordable. The cost of labor, the price of properties, and cost of construction of building hospitals are low and inexpensive in Tunisia
The exchange rate is exceptionally favorable, and the sterling pound is worth $3.8 for a Tunisian dinar.
Tax laws support health care and encourage investment in clinics, training and medical equipment.
Doctors are required to pay much cheaper insurance than in the UK.
Our long-term and continuous cooperation with our partners (clinics, surgeons, hotels) enable us to get unbeatable prices for our clients.
The cost of breast reduction in Tunisia mentioned above comprises of hospital and/or surgical facility costs, surgeon's and the anaesthetist's fees, all ground transfers (airport, hotel, clinic,) and your stay at a 5* hotel on full board basis.
---
Breast reduction surgery in tunisia in bref
---
How breast reduction surgery is performed?
The procedure of breast reduction is usually carried out by making incisions on your breasts, this result in surgical removal of the excess fat, glandular tissue and skin.
Now and again, liposuction in combination with other techniques such as excision can be used to eliminate excess fat.
The condition of the patient, breast composition, the amount desired to be reduced, the personal preference of the patient and the specialist's recommendation plays crucial role in determining the technique to be used. The procedure involved in breast reduction surgery is stated below:
Step 1 – Anesthesia
In this step, medications are given to make sure that you are comfortable during breast reduction surgery. There are two choices involved in this step and they are intravenous sedation and general anesthesia. Make sure your surgeon is in the best position in selecting the best choice for you.
Step 2 – The incision
Below are the incision options:
A circular pattern around the areola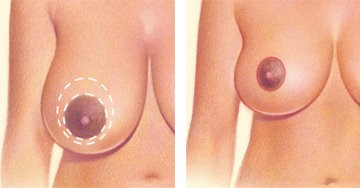 The incision lines that are left behind are visible and permanent scars, although they are hidden when covered with a swimsuit or bra.
A keyhole or racquet-shaped pattern with an incision around the areola and vertically down to the breast crease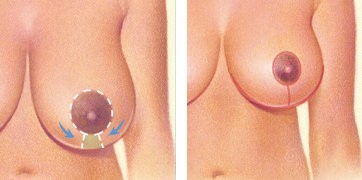 An inverted T or anchor-shaped incision pattern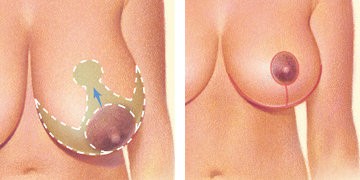 Step 3 - Removing the tissue and repositioning of the nipple
After a cut is made, what follows is the repositioning of the nipple. Areola is reduced by removal of the skin by the edge, if there is need for it.
The underline breast tissue will be reduced, raised and shaped. From time to time, for extremely large hanging breasts, both the nipples and areola may be subjected to removal and later transplanted to a higher position on the breast this is referred to as free nipple graft.
Step 4 - Closing the incisions
The incisions made at the beginning of the procedure are brought together in order to reshape the new smaller breast. Sutures are made in the inner part of the breast tissue so as to form and support the newly shaped breasts; in order to close the skin; sutures, skin adhesives and or surgical tape are used. It is important to note that the lines which are formed due to incision are permanent; however, it can disappear and greatly improve as time goes on.
---
Scars related to breast reduction
Breast reduction just like other surgical procedures involves incisions in the skin. In breast reduction surgery, scars are unavoidable. However the good news remains that there are ways to reduce scars during and after surgery.
The first and major thing that needs to be done is to locate a board-certified plastic surgeon that has a wide experience with breast reduction and ways to reduce the appearance of scars. It is after this you can give trial to other techniques to reduce breast reduction scars after surgery.
Like any surgical operation, breast reduction causes scarring. However, the types of techniques used plays significant role in the degree of the scar. This is reduced to shorter-scar techniques compared to larger-scar techniques.
---
Post-operative effects and recovery after a breast reduction surgery
After breast reduction surgery, the surgeon will wrap your breasts by an elastic bandage or a special bra. Also, for the first day or two, you will be placed a small tube in order to drain off excess blood and fluids.
You may feel some pain or discomfort for the first days or weeks especially when you move around or cough. Your plastic surgeon will prescribe medication to reduce the pain and to avoid any infection.
The bandages will be removed a day or two after breast reduction surgery, though you'll continue wearing the special bra around the clock for several weeks, until the swelling and bruising subside.
For the first days or weeks after surgery; your breasts are likely to be tender and sensitive; it can be swollen and bruised. And also your doctor can advise you to use an elastic compression bra in order to cover your breasts.
For the few first months following breast reduction surgery, you may experience some loss of feeling in your nipples and breast skin and irregular shooting pains. This usually fades over the time, however, it may last a year or more, and occasionally it may be permanent.
Recovery from breast reduction surgery
If you want to go for breast reduction surgery, you can take a leave of at least a week from work or school. But some individuals need two weeks, each of these situations differs. Instructions about follow-up appointments such as removal of bandages and stitches will be provided by your surgeon.
During recovery, you will have to put an end to any strenuous exercise for a minimum of one week after surgery.
There are some things you should expect after breast reduction surgery such as feeling tired and have pains around your breasts. All these things are normal. You will be given analgesics which will be taken orally just to alleviate your pains for some days after surgery. You should also stay away from lifting heavy objects.
Some people after surgery develop an emotional reaction, like a feeling of depression. This may be normal, but be sure to inform your doctor about all your doubts.
---
Result and outcome of breast reduction surgery
When breast reduction surgery is successful, you will be relieved of pains in some parts of your body such as upper back, neck and shoulders. When you have breasts whose size is proportional to your body, you will be free to engage in physical activities and it will also enhance a more positive self-esteem.
Although the result appears immediately after the surgery, but it is good to note that it can take several weeks before the swelling completely go down and the surgical scars to fade. The ultimate outcome is generally permanent. Although the shape and size of the breast can change due to factors such as aging and weight gain or loss
---
Before after photos of a breast reduction
Before after photos of a breast reduction 1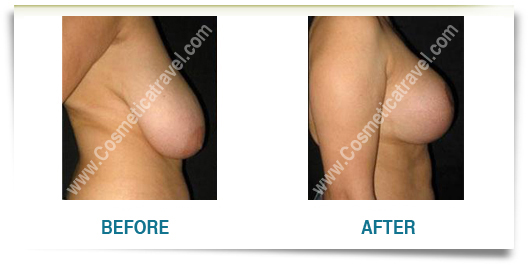 Before after photos of a breast reduction 2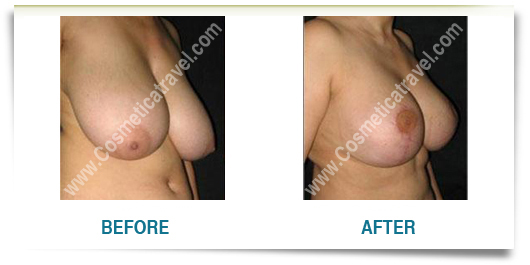 Before after photos of a breast reduction 3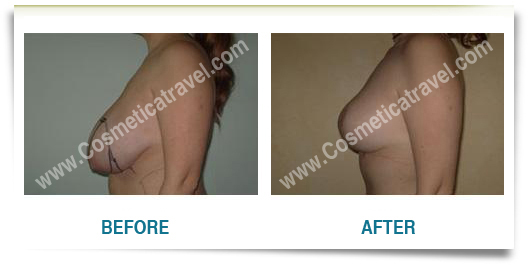 Before after photos of a breast reduction 4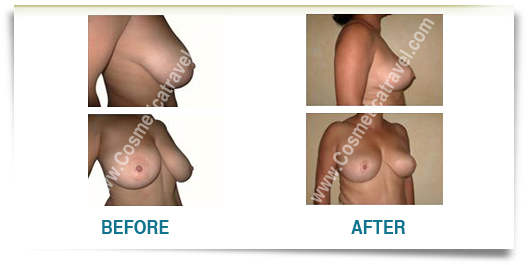 Before after photos of a breast reduction 5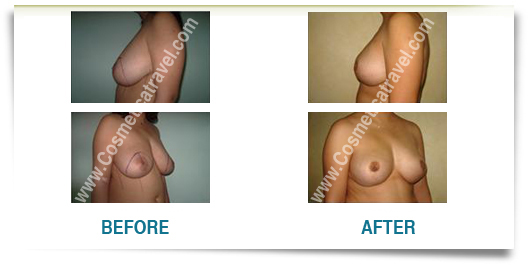 ---
Advices before and after breast reduction surgery
Before breast reductionsurgery:
Try to avoid the use of tobacco or other products such as nicotine and cigarettes two weeks before and two weeks after surgery. As this can cause some damages to the skin.
Do not take aspirin, ibuprofen or anti-inflammatory or anticoagulant, and also illegal drugs such as cocaine, crack, THC, marijuana) for two weeks before surgery this is because such drugs can result into problems with anesthesia and surgery.
Stop taking contraception pills for one month before surgery in order to reduce risk factors for venous thromboembolism. 
Stay away from work until you recover fully.
Be as fit as possible to aid the recovery process
Stop eating or smoking or drinking anything including water, tea, or coffee after midnight the night before your surgery (8 hours before your surgery).
After breast reduction surgery:
Below are some of the specific instructions on post-operative care which will be provided to you by your surgeon:
The way you will take care of your surgical site(s) after surgery
Drugs that will be taken through mouth in order to help with healing and reduce the risk of infection
Specific concerns to watch after at the surgical site(s) or in your general health
When you return for follow-up care during your stay in Tunisia and if you need any follow-up care after going back to your country.
When special dressings or bandages or plaster if any, after surgery will be removed
How the stitches will be removed
When you can resume normal activity and exercise