Breast Reduction
Operations

Anaesthetic
Procedure Time
Hospital Stay
Stay In Tunisia
Back To Work
All Inclusive Price
BREAST REDUCTION
General
2 hour(s)
4 night(s)
4 night(s)
5-7 day(s)
£ 2040
---
Breast reduction surgery
Pre-Operative tests for Breast reduction
Clinical and radiological (X Ray) tests of the breasts are required.
Biology : Usual pre-operative tests.
Procedure for Breast reduction
Breast Reduction surgery is recommended to women who suffer from large or pendulous breasts.
Oversized breasts do not only harm corporal self-esteem, but can also lead to painful chronic deformities, mainly of neck, breast and back.
Breast reduction involves removing excess breast tissue to improve the shape of the breast reposition the breast mound higher on the chest for a more youthful-looking and perky result.
After the surgery, the breasts are taped for six weeks post operatively to reduce tension on the scars and to obtain a narrow scar. The patient is instructed on how to tape the breasts herself for the period. A bra is worn continuously for two weeks, day and night, and then during the day for the next four weeks. All sutures are absorbable.
Breast reduction post surgery
After breast reduction surgery, you'll be wrapped in an elastic bandage or a surgical bra over gauze dressings.A small tube may be placed in each breast to drain off blood and fluids for the first day or two.
You may feel some pain for the first couple of days-especially when you move around or cough-and some discomfort for a week or more. Your plastic surgeon will prescribe medication to lessen the pain.
The bandages will be removed a day or two after breast reduction surgery , though you'll continue wearing the surgical bra around the clock for several weeks, until the swelling and bruising subside. Your stitches will be removed in one to three weeks.
If your breast skin is very dry following surgery, you can apply a moisturizer several times a day, but be sure to keep the suture area dry.
Your first menstruation following breast reduction surgery may cause your breasts to swell and hurt. You may also experience random, shooting pains for a few months. You can expect some loss of feeling in your nipples and breast skin, caused by the swelling after surgery. This usually fades over the next six weeks or so. In some patients, however, it may last a year or more, and occasionally it may be permanent.
Results of the Breast reduction
Although much of the swelling and bruising will disappear in the first few weeks, it may be six months to a year before your breasts settle into their new shape. Even then, their shape may fluctuate in response to your hormonal shifts, weight changes, and pregnancy.
Your plastic surgeon will make every effort to make your scars as inconspicuous as possible. Still, it's important to remember that breast reduction surgery scars are extensive and permanent. They often remain lumpy and red for months, then gradually become less obvious, sometimes eventually fading to thin white lines. Fortunately, the scars can usually be placed so that you can wear even low-cut tops.
Of all plastic surgery procedures, breast reduction results in the quickest body-image changes. You'll be rid of the physical discomfort of large breasts, your body will look better proportioned, and clothes will fit you better.
However, as much as you may have desired these changes, you'll need time to adjust to your new image-as will your family and friends. Be patient with yourself, and with them. Keep in mind why you had breast reduction surgery, and chances are that, like most women, you'll be pleased with the results.
---
Breast Reduction price
The price of a Breast Reduction in Tunisia coupled with a week of recovery or vacation in a 5 stars hotel is at least 60% cheaper than the sole procedure in Europe and for the same medical quality.
These cosmetic sugery prices include :
Medical services:
The operation
The anaesthetics
All operating theatre charges
1 to 2 nights at the clinic
The surgeon's and the anaesthetist's fees
Pre and post operative consultations
Post operation care carried out by a trained nurse at your hotel (if necessary)
Medication needed during your stay in Tunisia
Agency services:
All transfers (airport, hotel, clinic, ...)
5 to 7 nights at a 5* hotel on a half board basis
Wellcome, assistance and organization of your stay
Arrangement of all your appointments
Reservation of any extra services
These cosmetic surgery prices do not include :
Extra personal expenses
Travel insurance
Flight ticket
---
Breast Reduction before and after photos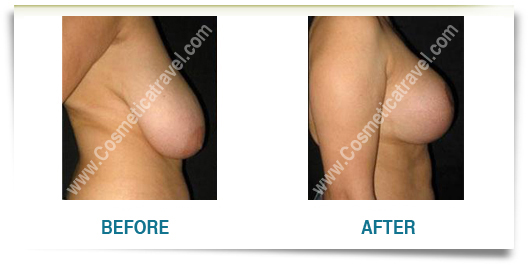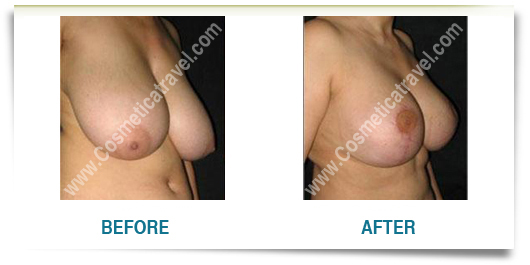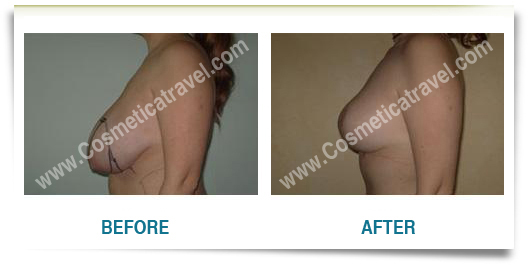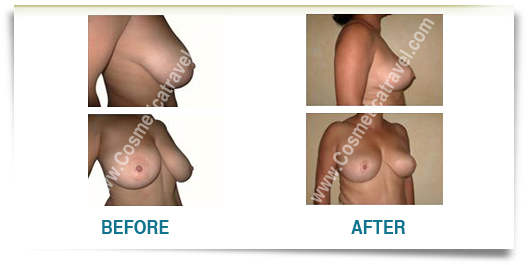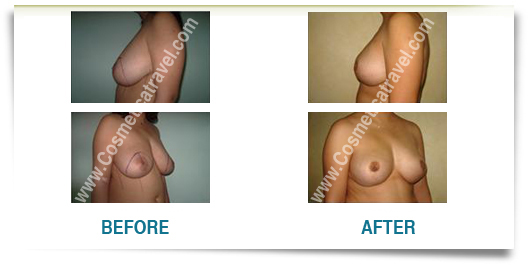 Your dream body is a few clicks away
Over 5,300 satisfied patients