Hair transplants procedure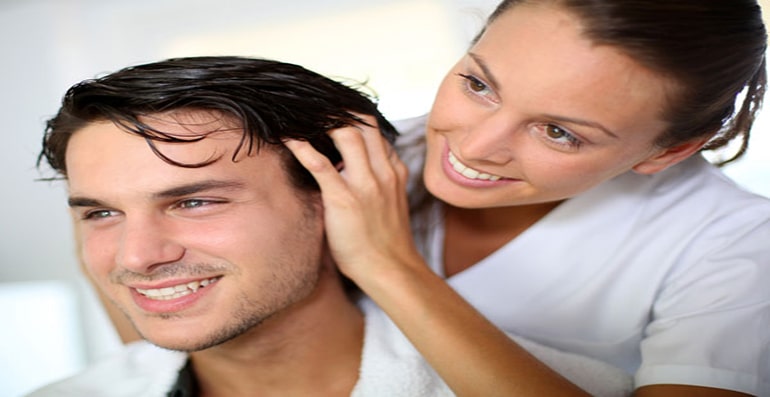 On average, we lose between 100 and 150 hairs a day. This natural cycle is normally compensated by hair growth but it becomes a problem when the hair loss exceeds the hair growth. Hair loss is a typically male problem, caused by many factors; whether hereditary conditions, baldness, change in hormones, illness or extreme stress. Some women also suffer from hair loss which can affect their self-confidence and their emotional well-being. Lifestyle factors or medical conditions of women can lead to hair thinning or hair loss. Indeed, hairstyles, such as braids and cornrows which, pull the scalp, and therefore lead to eventual hair loss. Poor nutrition, hormonal imbalances like pregnancy, menopause, and birth control pills may play a major role in hair loss. In order to remedy this problem, the hair transplant is an aesthetic, durable and discreet solution against hair loss. This surgery transfers the hair that the patient already has from his donor area, to fill an entirely bald zone or a thin-haired zone, known as the receiver area. Since a thick hair is often associated with beauty and a positive self-image, this technique will allow patients to obtain fast and natural hair coverage results. It is recommended for people, with good health conditions, who suffer from pattern baldness. The amount of healthy hair available for hair transplant is an important factor. To overcome baldness, you are advised to combine medical treatments for hair loss with surgical procedure to replace hair where the loss has occurred.
---
---
Hair Transplant cost in Tunisia
The price of a Hair transplants in Tunisia coupled with a week of recovery or vacation in a 5 stars hotel is at least 35% cheaper than the sole procedure in Europe and for the same medical quality.
Our highly competitive prices can be explained by the fact that:
The cost of living in Tunisia is considerably cheaper than in the UK (Lower cost of labor, lower price of properties, lower costs of construction to build hospitals…)
The currency exchange rate is extremely advantageous as the sterling Pound is worth 3,8 Tunisian dinar.
The Tax laws are favourable to the Health Care industry and encourage investments in clinics constructions, in trainings and medical equipment.
Doctors are required to pay a much lower insurance cost than in the UK.
Our long and continuous collaboration with our partners (clinics, surgeons, hotels ...) allow us to obtain unbeatable prices for our customers.
If you want to know more about our prices, visit our page.
---
Hair Transplant in Tunisia in short
---
How is Hair Transplant performed ?
Hair transplant is carried out under a local anesthesia and is therefore painless.
The Follicular Unit Extraction, also known as FUE: It lasts about 4 to 8 hours depending on the number of grafts to be used for the hair implants. The surgeon will shave the patient's hair in order to easily extract and transplant the grafts. Then, the surgeon and his team make tiny holes with a blade or needle in the area of the scalp that is receiving the hair transplant. The surgeon will prepare the hair implants and transplant them in the recipient areas. Donor sites heal relatively well. Only small dots are visible, but these are covered by the surrounding hair. This technique does not leave visible scars.
---
Scars related to Hair Transplant
FUE hair transplants procedure leaves multiple small dot-shaped scars that are barely visible and will be hidden by the patient's hair. In addition these small scars will fade with time to become totally unnoticeable.
Learn more about male breast surgery
---
Post operative effects and recovery after Hair Transplant
There is no pain during the procedure since it is carried out under local anesthesia. However, after the surgery, patients can feel a pulling sensation and their forehead will also swell for a few days after. They will leave the clinic with a bandage on the donor and receiver areas. The next day, the patients will return to remove it and to apply their first special shampoo.
The doctor will explain to the patients how they will have to wash their hair after the hair transplantation procedure. They can resume their professional activity and daily life. Moreover, crusts will form on the receiving area and will disappear, on average, in 8 to 10 days.
Learn more about plastic surgery before and after here.
---
Result and outcome of Hair Transplant
The result becomes definitive from 8 months to one year after the hair transplant procedure with real, natural and aesthetic hair. The patient will notice gradual changes in the appearance of their hair. Hair transplant provides a strong hair density, but it depends often on the scalp laxity, follicles density in the transplanted area as well as the hair quality. If required, a new session can be done one year after the first one.
Lean more about cosmetic treatments:
---
Photos before and after Hair Transplant
Photos before and after Hair Transplant 1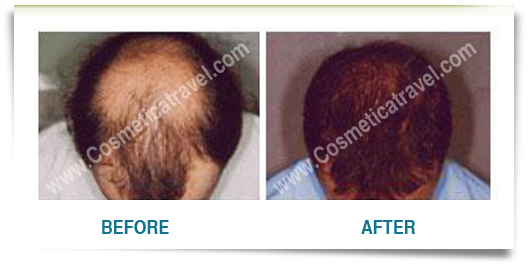 Photos before and after Hair Transplant 2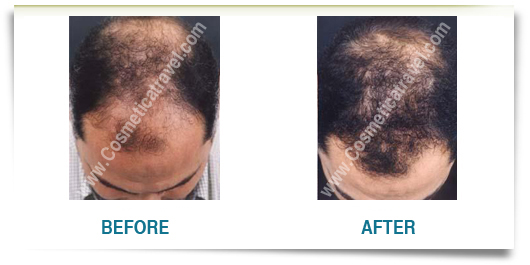 Photos before and after Hair Transplant 3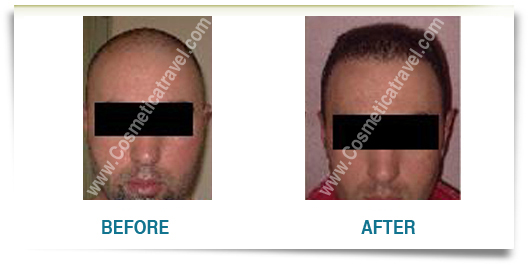 ---
Advices before and after Hair Transplant
During the examination, the doctor will evaluate the condition of your hair and scalp, and will ask you about your general health. Based on this information, the surgeon will develop a personalized treatment plan adapted to your scalp and hair type. The doctor will give the patients a few instructions before undertaking the surgery. One week before the hair transplant procedure, they must not take aspirin or any other anti-inflammatory medications. Also, any medicines containing vitamins B or E are forbidden for one week before the hair transplant procedure because they will increase bleeding. However, they can be resumed four to five days following the surgery. It is essential to stop smoking because it causes constriction of blood vessels and decreases blood flow to the scalp.
Following hair transplant procedure, patients are given an aftercare pack, including special shampoos to aid healing and recovery. They should cover their heads in case of bright sunlight. It is recommended not to wash the head with pressured warm water. As for the hair drying, the patients should use towels carefully, or a hair dryer on a cool mode from a distance to their head. In addition, hair dyeing and styling products are forbidden at least for the first week after the cosmetic surgery. It is advised to avoid any heavy work or sports for 1 week. Furthermore, the patients can use ointment to soften the crusts. In order to get excellent results, they must follow the surgeon's instructions.