Hair transplants surgery : micro grafting and baldness surgery in Tunisia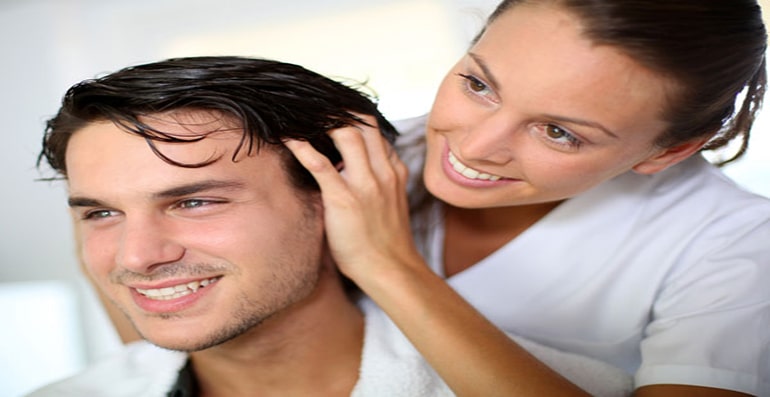 ---
Hair transplant
Heredity is the major factor in baldness and it affects 66% of men.
For women, hormonal changes, including those that occur in menopause are mainly responsible for female "pattern changes" which include thinning and loss.
To overcome baldness, you are advised to combine medical treatments for hair loss with surgical procedure to replace hair where the loss has occurred.
In the last few years hair transplants and micro-grafting surgenry seemed to have outdone all other hair treatment procedures.
The most commonly known hair replacement requires taking a strip of hair-bearing scalp from the back of the head where the hair is healthy and thick. The strip is then divided into smaller grafts. These grafts are then inserted into tiny slits in the scalp through small puncture points, and must be placed in such a way that hair all grows in the same, natural direction.
While some of the grafts may contains up to five or six hair, it is sometimes necessary to use a number of grafts containing only one or two hair to create a natural appearance. This is known as mini or micro-grafting. No visible scars remain in the treated area.
Hair transplant Results
After a hair transplant , you can wash your hair the next day .You may possibly experience hair dandruff following the operation along with hair loss on the eighth day but the implanted hair strips remain strong and act as a supply for new hair in 3 to 4 months.
In approximately six months, hair goes back to normal.
---
Hair transplants price
The price of a Hair transplants in Tunisia coupled with a week of recovery or vacation in a 5 stars hotel is at least % cheaper than the sole procedure in Europe and for the same medical quality.
These cosmetic sugery prices include :
Medical services:
The operation
The anaesthetics
All operating theatre charges
1 to 2 nights at the clinic
The surgeon's and the anaesthetist's fees
Pre and post operative consultations
Post operation care carried out by a trained nurse at your hotel (if necessary)
Medication needed during your stay in Tunisia
Agency services:
All transfers (airport, hotel, clinic, ...)
5 to 7 nights at a 5* hotel on a half board basis
Wellcome, assistance and organization of your stay
Arrangement of all your appointments
Reservation of any extra services
These cosmetic surgery prices do not include :
Extra personal expenses
Travel insurance
Flight ticket
Hair transplant before and after photos