Dental bleaching procedure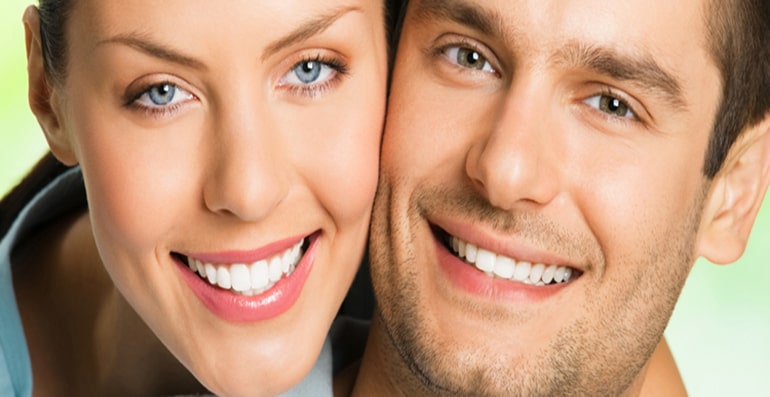 | Operations | Anaesthetic | Procedure Time | Hospital Stay | Stay In Tunisia | Back To Work | All Inclusive Price |
| --- | --- | --- | --- | --- | --- | --- |
| Dental bleaching | | hour(s) | 0 night(s) | 0 night(s) | day(s) | £ 0 |
---
Are your teeth stained? Whether the stains are due to tobacco, food or medicine, a dental bleaching will help you smile again. Bleaching may only be performed on healthy teeth and requires a professional recommendation.
There are two essential processes of teeth whitening.
The Glutter
Bleaching is essentially based on the application of a special product on the teeth (carbamide peroxide, hydrogen peroxide or sodium perborate for devitalized teeth). The product application is generally performed using a custom gutter (produced by a prosthetic laboratory using a teeth print). The application of the whitening product with this gutter can be done from your home and requires daily applications for a defined time. In some instances, for the sake of efficiency and saving time, dentists may choose to use a more concentrated solution for which the application would be one-off and performed at the dentist's cabinet.
Finally, the effectiveness of the whitening product can be further enhanced by activating it with a laser or a specific lamp.
The ZOOM Method (bleaching technique performed at the dentist's cabinet)
The Zoom-powered whitening method is a patented and scientifically developed tooth bleaching procedure. It is safe, efficient and fast. In less than an hour, your teeth will become remarkably whiter.
It is a process that uses a whitening gel (hydrogen peroxide) activated by Zoom light. It acts on the tooth enamel and dentine without affecting the structure of the tooth.
The dentition becomes lighter by two to three shades and the effect lasts from one to five years, depending on the patient's dental hygiene and on the type of beverages consumed and his/her smoking habits as the latter yellow the teeth.
The only side-effect observed is a sensitivity to heat and cold which can be treated by applying a fluoride gel after the bleaching.
The total duration of this session is 90 minutes including preparation time and before/after pictures. The bleaching itself lasts about 45 minutes only and offers spectacular results.
The procedure is simple. First, the dentist will start preparing you by covering your lips and gums, leaving only your teeth exposed. He then applies the Whitening Zoom Gel, which was specifically designed to be used with Zoom light. Light and gel work together to gently penetrate your teeth, breaking stains and discolouration. During this time, you can relax. The gel is applied during 3 sessions of 15 minutes for a total treatment of 45 minutes which is enough to ensure you leave the cabinet with a bright white smile!
Teeth Lightening: Comfort & Reliability
A reliable technique of oxidation of dark molecules to lighten the tint of teeth by getting rid of undesirable physiological stains (e.g. yellowish teeth, weakly marked tetracyclines or simple fluorosis), and other colorations due to different factors such as the excessive consumption of colored beverages (tea, coffee, red wine, soda ...), smoking, or taking antibiotics.
The dentist will apply a powerful type of bleaching product (sanding and sand polishing) which passes through the outer '' enamel '' crown and penetrates the dentine to eliminate unsightly spots and dispel various pigments that alter your smile.
The protocol is to use a highly concentrated product for an hour on average, regularly renewing the product.
This aesthetic intervention can be conducted in a single session with a dentist-surgeon.
However, deep shades on the dental structure (i.e. amelogenesis or dentinogenesis), opaque fluorosis, or very marked tetracyclines are absolute contraindications to this type of treatment. Pregnant and lactating women must also abstain from undergoing the treatment.
The lightening technique is reserved to patients with healthy gums and natural teeth. This technique does not apply to prostheses and dental veneers.
Results are generally excellent and long-lasting. Over time, the teeth may lose some of their brightness. It is thus preferable to hold follow-up sessions in order to sustain the brightness of your smile!
Dental Whitening with Opalescence Gel
To enjoy a beautiful dentition and obtain the smile you've been dreaming of ''Gel Opalescence Office" (a highly-concentrated cosmetic bleaching gel with hydrogen peroxide containing potassium nitrate and fluoride) is the ideal product. The potassium nitrate it contains has proven to reduce tooth sensitivity while fluoride fights cavities and strengthens enamel.
This accelerated whitening intervention treats dark and internally discolored teeth due to illness, injury or medical treatment, or to congenital, systemic, metabolic, pharmacological, traumatic or iatrogenic factors such as dental fluorosis, jaundice, tetracycline, adult minocycline stains, porphyria, trauma and fetal erythroblastosis etc.
This highly-concentrated gel must be controlled and applied by your dentist from his cabinet.
Extremely effective, this dental cabinet-based treatment will significantly lighten your teeth tint.
Prior to the intervention, patients must clean their teeth carefully or undergo a descaling about 15 days before the whitening appointment with the dentist. It is also advisable to place dental crowns or porcelain veneers before considering a gel application.
Before applying the gel, the starting tint must be determined using the 'before' pictures as reference.
It is recommended to wear protective eyewear for the dentist as well as an isolation for the patient (using a gingival barrier).
The gel application lasts between 20 and 50 minutes, monitoring the sensitivity of the patient to achieve the desired result safely.
Before the procedure, the patient should be aware that bleaching will only be effective on the natural tooth part. Indeed, bridges, restorations, and existing crowns cannot be thinned.
Precautions:
This gel cannot be applied on pregnant or under 18 years-old patients.
A report confirming the patient's gum and oral health is mandatory.
It will be necessary to make sure that the spots on the enamel will respond to the whitening - otherwise, the use of facets would be more effective.
Patients with high tooth sensitivity, worn or fragile enamel, or hypersensitivity to peroxide and/or glycol should avoid this gel.
---
Dental bleaching price
The price of a Dental bleaching in Tunisia coupled with a week of recovery or vacation in a 5 stars hotel is at least % cheaper than the sole procedure in Europe and for the same medical quality.
These cosmetic sugery prices include :
Medical services:
The operation
The anaesthetics
All operating theatre charges
1 to 2 nights at the clinic
The surgeon's and the anaesthetist's fees
Pre and post operative consultations
Post operation care carried out by a trained nurse at your hotel (if necessary)
Medication needed during your stay in Tunisia
Agency services:
All transfers (airport, hotel, clinic, ...)
5 to 7 nights at a 5* hotel on a half board basis
Wellcome, assistance and organization of your stay
Arrangement of all your appointments
Reservation of any extra services
These cosmetic surgery prices do not include :
Extra personal expenses
Travel insurance
Flight ticket
Depending on the period, procedure and other criteria