Breast surgery : breast uplift surgery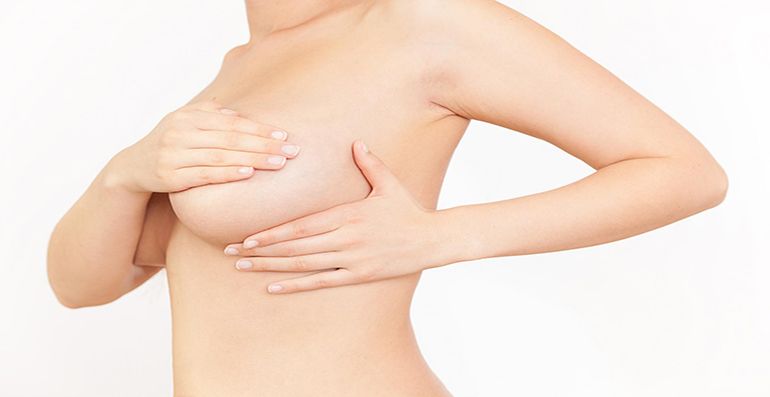 Operations

Anaesthetic
Procedure Time
Hospital Stay
Stay In Tunisia
Back To Work
All Inclusive Price
BREAST UPLIFT WITHOUT IMPLANTS
General
1:30-2 hour(s)
4 night(s)
4 night(s)
5-7 day(s)
£ 2040
BREAST UPLIFT WITH IMPLANT
General
2-2:30 hour(s)
5 night(s)
5 night(s)
5-7 day(s)
£ 2525
---
Breast lift
The breasts change in shape and size throughout a woman's lifetime. The normal ageing process of the skin, weight fluctuations, pregnancy and breastfeeding are the common reason of sagging and flaccid breasts.
Breast lift surgery moves the nipple and areola, lift the breast to reposition them higher and eliminates exce skin to reshape them. The result is a more youthful-looking breasts.
Pre-Operative tests for Breasts lift surgery
Clinical and radiological (X Ray) tests of the breasts are required.
Biology : Usual pre-operative tests.
Breast lift Procedure
This is either performed through a peri-areola scar (i.e. around the circumference of the areola), or in worse cases is performed using a keyhole incision - with the resultant scar around the areola and a very small and insignificant scar in the inframammary fold. A vertical scar joins these 2 scars. All sutures are absorbable and do not need to be removed. After a breast lift the patient has to wear a bra for 4 weeks day and night.
Breast uplift Post surgery
After breast uplift surgery, you'll wear an elastic bandage or a surgical bra over gauze dressings. Your breasts will be bruised, swollen, and uncomfortable for a day or two, but the pain shouldn't be severe. Any discomfort you do feel can be relieved with medications prescribed by your plastic surgeon.
Within a few days, the bandages or surgical bra will be replaced by a soft support bra. You'll need to wear this bra around the clock for three to four weeks, over a layer of gauze. The stitches will be removed after a week or two.
If your breast skin is very dry following the breast lift surgery, you can apply a moisturizer several times a day. Be careful not to tug at your skin in the process, and keep the moisturizer away from the suture areas.
You can expect some loss of feeling in your nipples and breast skin, caused by the swelling after surgery. This numbness usually fades as the swelling subsides over the next six weeks or so. In some patients, however, it may last a year or more, and occasionally it may be permanent.
Results of the Breast lifting
Your surgeon will make every effort to make your scars as inconspicuous as possible. Still, it's important to remember that mastopexy scars are extensive and permanent. They often remain lumpy and red for months, then gradually become less obvious, sometimes eventually fading to thin white lines. Fortunately, the scars can usually be placed so that you can wear even low-cut tops.
You should also keep in mind that a breast lift won't keep you firm forever--the effects of gravity, pregnancy, aging, and weight fluctuations will eventually take their toll again. Women who have implants along with their breast lift may find the results last longer.
Your satisfaction with a breast lift is likely to be greater if you understand the procedure thoroughly and if your expectations are realistic.
Brest lift can be combined with breast implants. The purpose of this combination is to get the most from your surgery by positioning the breasts correctly and giving them the right volume and shape.
Breast uplift with fat injection:
Breast uplift with fat injection is the correction of breast ptosis by fat injection.
Breast ptosis is the "falling breasts". The mammary gland is sagging and the skin is distended.
Breast ptosis can be associated with a breast hypotrophy (small breasts) and require for its correction the placement of breast implants or the injection of fat.
The fat is sucked on areas where fat deposits are present in excess. This fat is then purified and reinjected into the chest.
The patient enjoys the benefits of liposuction and remodeling of her breasts during a single surgery.
---
Breast uplift price
The price of a BREAST UPLIFT in Tunisia coupled with a week of recovery or vacation in a 5 stars hotel is at least 60% cheaper than the sole procedure in Europe and for the same medical quality.
These cosmetic sugery prices include :
Medical services:
The operation
The anaesthetics
All operating theatre charges
1 to 2 nights at the clinic
The surgeon's and the anaesthetist's fees
Pre and post operative consultations
Post operation care carried out by a trained nurse at your hotel (if necessary)
Medication needed during your stay in Tunisia
Agency services:
All transfers (airport, hotel, clinic, ...)
5 to 7 nights at a 5* hotel on a half board basis
Wellcome, assistance and organization of your stay
Arrangement of all your appointments
Reservation of any extra services
These cosmetic surgery prices do not include :
Extra personal expenses
Travel insurance
Flight ticket
---
Breast lift before and after photos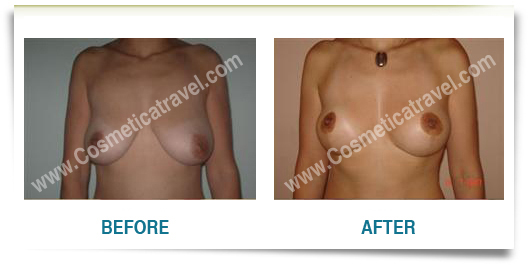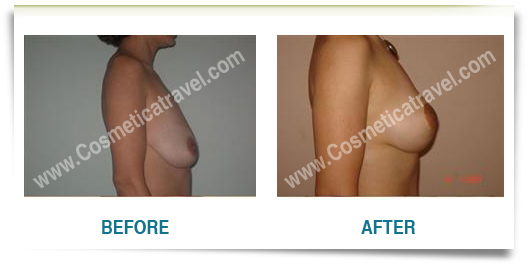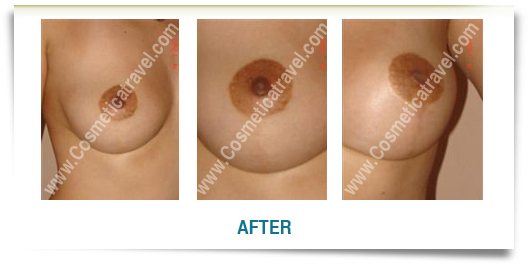 Your dream body is a few clicks away
Over 5,300 satisfied patients