Otoplasty : Ear correction surgery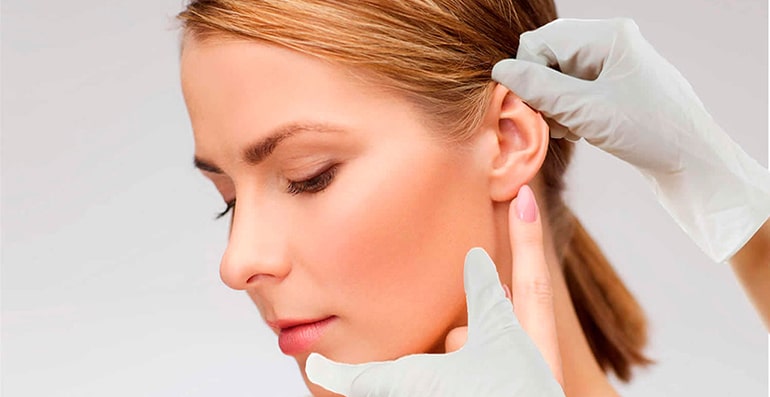 | Operations | Anaesthetic | Procedure Time | Hospital Stay | Stay In Tunisia | Back To Work | All Inclusive Price |
| --- | --- | --- | --- | --- | --- | --- |
| Otoplasty -ear correction surgery- | Local | 0:45-1 hour(s) | 1 night(s) | 3 night(s) | 5-7 day(s) | £ 1490 |
---
Otoplasty Procedure
Otoplasty or ear plastic surgery is recommended to patients who are distraught psychologically, socially and professionally from big, protruding or deformed ears.
Not only is it possible to "pin back" ears, but also ears can be reshaped, reduced in size or made more symmetrical due to otoplasty.
Adult candidate for otoplasty should understand that the firmer cartilage of fully developed ears does not often provide the same moulding capacity as in children.
As for children, it is highly desirable for them to have it at a younger age sometimes as young as 9 years old not only for aesthetic reasons but also for psychological reasons affecting their future development both at school and at home.
The cartilage is extremely pliable, thereby permitting greater ease of shaping, secondly, the child will experience psychological benefits from the cosmetic improvement.
Post surgery
You are required to keep the bandages on for the first 12 hours. Most patients experience some mild discomfort the first night after the operation. Soft dressings applied to the ears will remain until the 15th day.
Otoplasty Results
Otoplasty or ear plastic surgery permits to reshape the ears, permanently reduce the size of larger ones and set prominent ears back closer to the head. Nevertheless, you need to expect slight tenderness of the ears for 2 to 3 months.
---
Otoplasty price
The price of a Otoplasty in Tunisia coupled with a week of recovery or vacation in a 5 stars hotel is at least % cheaper than the sole procedure in Europe and for the same medical quality.
These cosmetic sugery prices include :
Medical services:
The operation
The anaesthetics
All operating theatre charges
1 to 2 nights at the clinic
The surgeon's and the anaesthetist's fees
Pre and post operative consultations
Post operation care carried out by a trained nurse at your hotel (if necessary)
Medication needed during your stay in Tunisia
Agency services:
All transfers (airport, hotel, clinic, ...)
5 to 7 nights at a 5* hotel on a half board basis
Wellcome, assistance and organization of your stay
Arrangement of all your appointments
Reservation of any extra services
These cosmetic surgery prices do not include :
Extra personal expenses
Travel insurance
Flight ticket
Depending on the period, procedure and other criteria