Back lift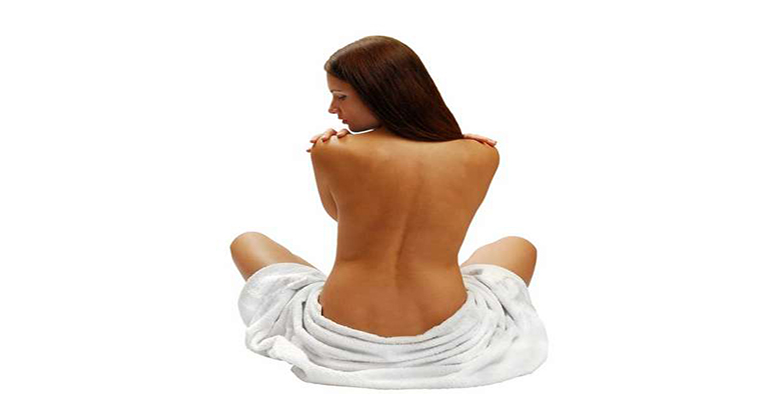 A back lift is a surgical procedure which aims at producing a slimmer and better defined contour to the back by eliminating excess skin and fat.
The development of folds in the mid and lower back area occurs in both men and women. This condition can be more visible in women because a brassiere can drop the skin tightly underneath it and folds appear around the bra. Loose skin after a weight loss cannot be eliminated by exercise but only thanks to a back lift surgery. Most patients undergo a back lift in addition to their back liposuction when they have a substantial amount of excess skin in addition to fat.
Who is a suitable candidate for a back lift surgery?
You may be a suitable candidate for a back lift if you have sagging skin as a result of ageing or significant weight losses.
Back lift can be the best option for you if:
You feel uncomfortable with the appearance of your upper and middle back
You have excess skin and fat in the upper and middle parts of your back that you are unable to eliminate via exercising and/or proper nutrition
You have lost a lot of weight via a diet, a gastric surgery and/or exercise
You are in good health and you have realistic expectations
Learn more about body surgery:
---

---

Back lift cost in Tunisia

The price of a back lift surgery in the UK is significantly higher than the price we offer. You can plan a budget of up to £ 6914 for your back lift in the UK. On the other hand, the price for a back lift surgery is of £ 2420 in Tunisia with our agency. This means you can save up to 65% on this surgery.

This difference in price is due to the high cost of operating room facilities and the surgeon's fees in the UK compared to the ones in Tunisia. But also the difference in purchase power, the difference in currency values, etc.

Keep in mind that you can save up to 60% and more on the price of your surgeries with Cosmetica Travel compared to the prices for the same surgeries in the UK. And also that our prices don't only include the cost of your surgery (like the UK prices) but also include a stay in a 5 star hotel and many other elements. There is nothing better for a fast recovery than spending your time in a relaxing and luxurious location assisted by our team.

We collaborate with the best clinics in Tunisia, click here to learn more.

The table above shows the cost of back lift in Tunisia and it includes the hospital bill, surgeons and anesthesia fees, airport and hotel stay among others.

More than 100 000 patients/tourists have undergone their surgery in Tunisia last year (while benefiting of exotic holidays and substantial savings) and this number keeps on increasing.

Learn more about the plastic surgery cost in Tunisia.

---

Back lift surgery in Tunisia in short

---

How is a back-lift surgery performed?

A back lift involves the use of general anesthesia. The first step of the process is to demarcate the incision lines.

The plastic surgeon will mark the top and bottom of the bra and then remove it in order to allow easy tracing of the incision line. The exact place where the line is positioned depends on the analysis done by the surgeon on the patient skin. However, it usually goes into the inner part of the lower half of the marked area and extends from the base of the right breast to the whole back until it reaches the base of the left breast. This long cut allows complete lift without distorting the remaining skin.

Once the incision line is drawn, the surgeon adds several straight vertical lines to indicate the places where the skin will be stitched. This procedure ensures that the skin below the incision remains in the same position relative to the skin above the incision.

The surgeon checks the marks and alignment on the skin to make sure that nothing is too loose or too tight. Before performing the incisions, some surgeons use Lidocaine along the incision line to further numb the skin.

The first incision is done along the marked incision line. The skin is slowly lifted and liposuction is often used to separate the skin from the underlying fat. The condition of the patient plays a significant role in determining the amount of skin to be removed. Frequently a strip of skin several inches tall is removed along with the entire width of the back.
Temporary joints connect the skin and hold it in place while the surgeon carefully sews it back. The sewing procedure requires to establish a firm alignment without creating tension along the scar line.

Once finished the incision is closed, the line is covered with bandage or tape. The whole procedure lasts between 60 and 90 minutes. Generally, no drain is required.

---

Scars related to back lift

Incisions made during back lift surgery can leave a long, thin scar on the back of the patient. The scar fades as time goes on but does not disappear completely. In the case of women, this scar can be hidden under the bra.

---

Post-operative effects and recovery after a back lift

After surgery, wait for at least 24 hours before taking your bath and do not expect to return to work the first week after surgery.

Your back will probably be bruised and be painful for a few days. In order to relieve the pain, apply an ice pack to the painful areas. Some patients report that discomfort requires the use of analgesics for up to a week after surgery, especially at night.
A compression garment must be worn for several weeks after the surgery.

The scars will be covered with bandages for the first week, and the patient should avoid any form of stretching, lifting of heavy objects, or engaging in strenuous exercise for another three to four weeks after the procedure. The patient can resume normal activities as soon as they no longer experience any form of discomfort.

---

Results and outcome of back lift surgery

Back lift results in a tighter, smoother, trimmer contour in the back with no more bulging above and below the bra strap on both the back and the sides. The scar is present in the back in an area that can be hidden under a bra or a swimsuit. During surgery excess skin and fat is removed. Multiple back "rolls" are smoothed and the lift extends to the buttocks.

The outcome of the back lift procedure is permanent. However there can be a reoccurrence of fatty tissue on the back, in the event that this occurs, the amount should be significantly lesser compared to what you have removed before your surgery. The best way to keep the results is to maintain a constant body weight by following a healthy diet and by exercising.

Learn more: Plastic surgery before and after

---

Advices before and after a back lift

Advices before a back lift surgery:

Below we list some advice you need to respect before your back lift surgery:

Two weeks prior to, and after, a back lift surgery, avoid taking tobacco or other products including nicotine and cigarettes. Failure to do so could result in skin loss, skin death, and slow wound healing that would have a negative effect on the final result.
Avoid the use of some drugs such as aspirin, ibuprofen or anti-inflammatory or anticoagulant 2 weeks before the surgery.
Women should avoid the use of contraception pills for one month before the procedure.
Maintain a healthy lifestyle to hasten the recovery process
It is also imperative to avoid eating, drinking and smoking for at least 8 hours prior to the procedure.

Advices after a back lift surgery:

Below are some advices that will be provided by your doctor they are known as postoperative instructions, it is important for you to follow them strictly to avoid unforeseen complications:

How to take good care of your surgical site (s) after surgery
Medications that you will take in order to help with the healing process and reduce the risk of infection
Points to watch after at the surgical site (s) or in your general health
How the stitches, bandages will be removed
When you can go back to your normal activity and physical exercise
Depending on the period, procedure and other criteria