Gynecomastia : Men breast surgery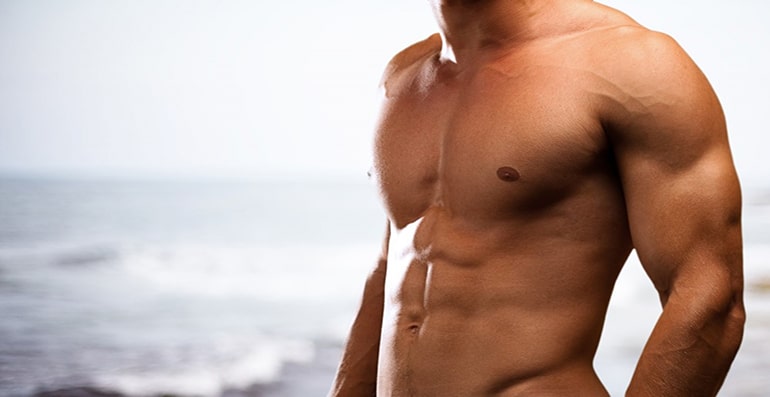 | Operations | Anaesthetic | Procedure Time | Hospital Stay | Stay In Tunisia | Back To Work | All Inclusive Price |
| --- | --- | --- | --- | --- | --- | --- |
| GYNECOMASTIA | General | 0:30 hour(s) | 1 night(s) | 3 night(s) | 7-10 day(s) | £ 1720 |
---
Gynecomastia Procedure
Gynecomastia is meant to treat men's breast tissue excess.
It is indicated in 2 cases:
1- Glandular hypertrophy :

The gland is taken out via a semi circular areola incision. An 8 to 10 mm layer is left to keep a good vascular nipple vitality. A 5 to 8 days tight dressing is applied.

2- Fat hypertrophy :

In case of excess of fat, an intra breast incision is made to take the fat out and a 1 cm layer is left.
Results of the Gynecomasty
Gynecomastia results:
The procedure is light and not painful.
The patient has a uniformly tight dressing for 15 days to keep a pressure on the chest and o reduce bruises. Bruises will disappear within 15 days.
The surgical outcome is often very satisfactory. The final result is definite when the patient is keen about having a good nutrition diet.
---
Gynecomastia price
The price of a Gynecomastia in Tunisia coupled with a week of recovery or vacation in a 5 stars hotel is at least % cheaper than the sole procedure in Europe and for the same medical quality.
These cosmetic sugery prices include :
Medical services:
The operation
The anaesthetics
All operating theatre charges
1 to 2 nights at the clinic
The surgeon's and the anaesthetist's fees
Pre and post operative consultations
Post operation care carried out by a trained nurse at your hotel (if necessary)
Medication needed during your stay in Tunisia
Agency services:
All transfers (airport, hotel, clinic, ...)
5 to 7 nights at a 5* hotel on a half board basis
Wellcome, assistance and organization of your stay
Arrangement of all your appointments
Reservation of any extra services
These cosmetic surgery prices do not include :
Extra personal expenses
Travel insurance
Flight ticket
---
Gynecomastia before and after photos