Breast augmentation surgery : breast enlargement and boobs implant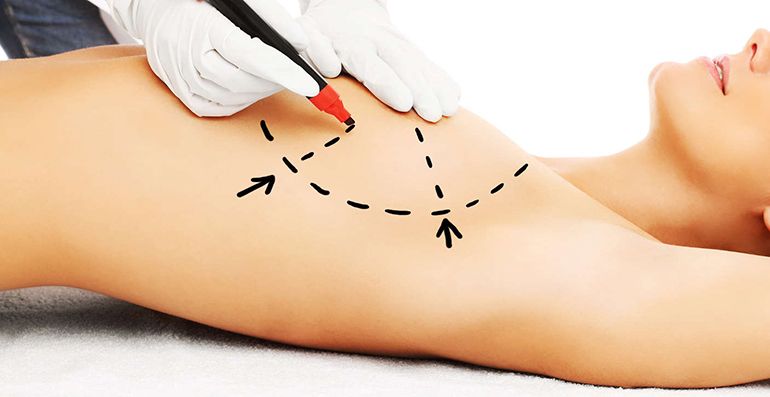 Attractive, well-shaped breasts suiting the body frame is an essential part of femininity and beauty. Breast augmentation, involves the placement of round shaped breast implants in order to enhance their size and shape.
Breast augmentation is a surgery which is performed to increase the size of the breast and it can also be referred to as augmentation mammoplasty. This surgery involves the placement of breast implants underneath the breast tissue or chest muscle.
In the event that you are thinking about breast augmentation, contact one of our plastic surgeons. It is important that you have a better understanding of what the surgery entails including possible risks, complications and follow-up care.
Who is an ideal candidate for breast augmentation?
Breast augmentation is meant for people that:
have realistic expectations
have a fully mature or a well-developed breast
feel their breasts are too small
have breasts of different sizes or shapes
have underdeveloped breasts
intend to increase the fullness and projection of their breasts
want to increase the balance of their figure
want to improve their self-image and self-esteem
What you should expect from breast augmentation?
Breast augmentation as defined above is a surgical procedure. As a result of this, patients are advised to think carefully before they consider the procedure. The implants can be positioned under or over the pectoral muscles.
Before the commencement of the surgery, the surgeon is in the best position to assist the patient in selecting the size of the implant needed. This can be done by placing implants of various sizes into the bra, to see how the patients feel.
The surgery is usually performed under general anesthetic; this makes the patient sleep while the surgery is being performed. There are some cases where local anesthetic is used and the patient is awake.
Discover our breast enhancement surgeries:
---
---
Breast augmentation cost in tunisia
What is the cost of breast enlargement?
Take advantage of cheaper breast augmentation cost in Tunisia and save up to 52% of the cost comparing to the UK prices.
The cost of breast enlargement surgery in the UK differs based on the experience of the surgeon, the types and the cost of breast implant used, and also the geographical location of the office. If you are an ideal candidate for breast augmentation, keep in mind that the average cost in London may be around £ 4625.
However, breast augmentation cost in Tunisia including a recovery stay at 5* hotel is 40% to 60% cheaper than only operation in the United Kingdom.
Breast augmentation price in Tunisia as above includes hospital or surgical facility costs, surgeon's and the anaesthetist's fees, all ground transfers (airport, hotel, clinic...) and your stay at a 5* hotel on full board basis.
Learn more about plastic surgery costs.
---
Breast enlagement surgery in tunisia in bref
| Operations | Anaesthetic | Procedure Time | Hospital Stay | Stay In Tunisia | Back To Work | All Inclusive Price |
| --- | --- | --- | --- | --- | --- | --- |
| Breast augmentation -round implants- | General | 1-2 hour(s) | 1 night(s) | 4 night(s) | 7-14 day(s) | £ 2220 |
---
How is breast augmenttion surgery performed?
A small incision is made and the breast prosthesis is inserted between the gland and the breast plate and in some cases (delicate skin and no gland) slithered under the pectoral muscle. The prosthesis used is a variety of high-grade silicone gels or saline filled implants. (Available to see when consulting your plastic surgeon).
Incision options:
This option should be discussed between the patient and the surgeon.
Some of the possible options are mentioned below:
Inframammary incision, this is carried out in the crease under the breast
Transaxillary incision, done in the armpit
Periareolar incision, performed around the nipple
There are many factors that need to be considered before opting for the incision option, these factors include how much enlargement is involved, the patient's anatomy, the type of implant, and the surgeon-patient preference.
Insertion and placement of the implants:
The breast implant is inserted into a pocket and placements of implants are of two types which are listed below:
A submuscular placement: This is placed beneath the pectoral muscle. It may take a long period of time to recover and there can be more pain after the surgery.
A submammary or subglandular: In this type of placement, the placement is positioned under the breast tissue, over the pectoral muscle.
Closing the incisions:
The incisions are closed by the surgeon by making use of layered sutures, or stitches, in the breast tissue. The skin is closed with the use of stitches, skin adhesives, and surgical tape. Initially, the incision lines will be visible but disappear as time goes on.
---
Scars retated to breast augmentation
Scars are normal and inevitable outcome after any surgery. In order to diminish scarring and to make your scars after a breast augmentation as discreet as possible, your Plastic Surgeon will do his best to locate the incisions in hidden sites along natural skin lines and creases.
Scars may fade with time and become barely noticeable. The skin scarring process depends on the patient's genetic or inherited scarring tendency
---
Post operative effects and recovery after a breast augmentation
Immediately after the surgery, as the anesthetic fade off, the patient will get analgesics to alleviate pain. After general anesthesia, the patient will no longer be able to drive. Our assistance team will be happy to to arrange your check-out from the hospital and drive you to your hotel. It usually takes six weeks before absorbable or dissolvable sutures can disappear.
At some point in the first 24 to 48 hours, you will experience swelling, bruising, numbness, discomfort and temporary soreness in the chest area but with a degree of subtlety still. During the first 15 days, you will feel temporary pain whenever you tend to move your arms as your breast will be still fragile and sore. You will need 3 months at least to be accustomed to the presence of the implant and be able to resume to normal activities such as exercising, breast feeding and pregnancy.
In the event that the patient has sutures that failed to disappear or if there are drainage tubes which are placed close to the breasts, there will be a need to make arrangement with any doctor or qualified nurse
to remove them. The patient must also ensure that they do not involve their self in strenuous exercise for about six weeks.
The doctor may suggest post-operative exercises, such as flexing and moving the arms, relieving pain and discomfort, as well as the type of bra to put on.
---
Result and outcome of breast enlagment surgery
There will be some swelling after the surgery, but this will disappear within two weeks. The incision lines will also fade. After which the patient can finally decide on whether the procedure as met with her expectations.
You will notice gradual changes in the appearance of scars as it refines to a more permanent outcome after few months. The final results may take several months (9 to 12 months, even more in some cases).
---
Before after photos of a breast augmentation
Before after photos of a breast augmentation 1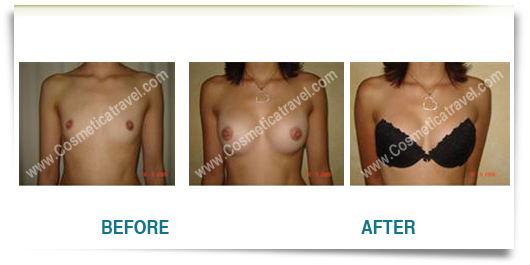 Before after photos of a breast augmentation 2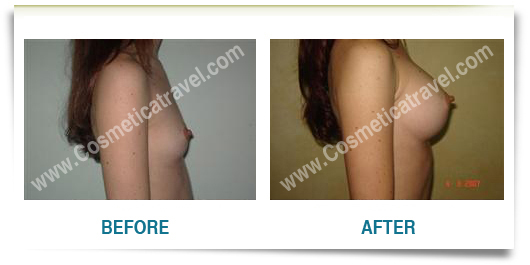 Before after photos of a breast augmentation 3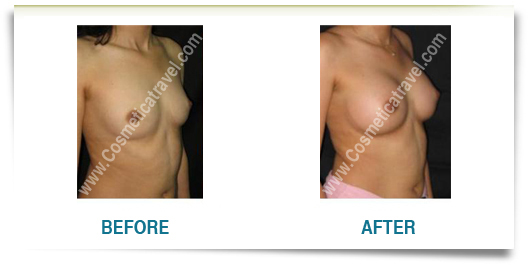 LEARN MORE ABOUT PLASTIC SURGERY BEFORE AND AFTER
---
Advices before and after breast augmention surgery
Before breast augmentation surgery:
Do not smoke or use tobacco or nicotine products for two weeks before and two weeks after surgery. Doing so could lead to skin loss, skin death, and slow wound healing that would ruin the result of your surgery leaving you with permanent deforming scars.
Stop taking all products containing aspirin, ibuprofen or anti-inflammatory or anticoagulant, as well as any illicit or illegal drugs (cocaine, crack, THC, marijuana,...) for two weeks before surgery Such drugs would lead to problems with anesthesia and surgery. We recommend you take only one multivitamin daily, for two weeks prior to your surgery. In any case and prior to stop taking any medication, it is important that you check with your doctor or surgeon. Always tell your surgeon EVERYTHING you are taking.
Do not have any alcoholic drinks (including beer and wine) for one week before surgery and one week after your surgery. Also, do not have any alcoholic beverages as long as you are taking prescription medications. Alcohol interferes with anesthetic medicines.
For women: Stop taking contraception pills for one month before surgery in order to reduce risk factors for venous thromboembolism. 
Take a few days off work to ensure the optimum recovery.
Be as fit as possible to help the recovery process
Reach your optimal weight
Do not eat or smoke or drink anything including water, tea, or coffee after midnight the night before your surgery (8 hours before your surgery).
After breast enlargement surgery:
Ask your surgeon to give you specific instructions on post-operative care. These instructions may include:
How to care for your surgical site(s) following surgery
Medications to apply or take orally to aid healing and reduce the risk of infection
Specific concerns to look for at the surgical site(s) or in your general health
When you return for follow-up care during your stay in Tunisia and if you need any follow-up care after going back to your country.
When special dressings or bandages or plaster if any, after surgery will be removed
How the stitches will be removed
When you can resume normal activity and exercise